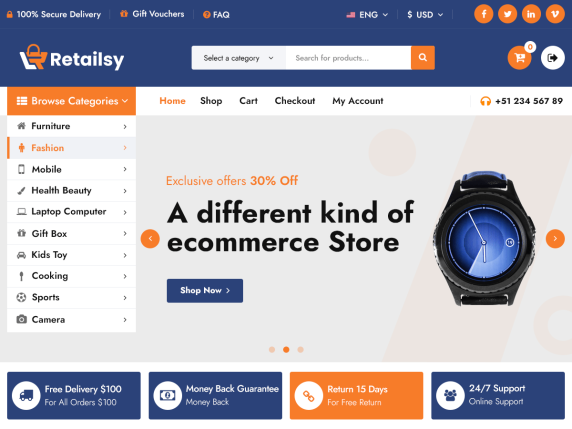 Retailsy is a versatile ecommerce WordPress theme designed for all types of online stores. Whether you're venturing into selling clothing, electronics, furniture, beauty products, or any other items, Retailsy has got you covered. Here's a deep dive into what makes Retailsy stand out:
1. Multipurpose Design
Retailsy is not just another WordPress theme; it's a multipurpose solution tailored for various online stores. From garments and gadgets to beauty products, this theme can adapt to any ecommerce niche.
2. User-Friendly Interface
With Retailsy, creating a professional-looking online store is a breeze. Its customizable design ensures that you can tweak it to match your brand's aesthetics. Moreover, the theme is mobile-friendly, ensuring that your customers have a seamless shopping experience, regardless of the device they use.
3. SEO Optimization
In today's digital age, SEO is crucial for any online business. Retailsy is SEO-optimized, ensuring that your store ranks well on search engines, driving organic traffic and potential customers to your site.
4. WooCommerce Integration
WooCommerce is one of the most popular ecommerce plugins for WordPress, and Retailsy offers full integration with it. This means you can leverage all the powerful features of WooCommerce right out of the box.
5. One-Click Demo Import
Setting up your online store is made even easier with Retailsy's one-click demo import feature. This allows you to quickly set up your store, making the process smooth and hassle-free.
6. Speedy Performance
Nobody likes a slow website, especially when shopping online. Retailsy ensures that your online store loads quickly, offering your customers a pleasant shopping experience.
For those looking to unlock even more features, Retailsy offers a premium version. You can check out the Retailsy premium demo here.
Thought-Provoking Insights:
Adapting to the Digital Age: With the rise of online shopping, having a robust and user-friendly online store is more crucial than ever. Themes like Retailsy make it easier for businesses to transition online.
The Importance of Mobile Optimization: As more consumers use their mobile devices for shopping, ensuring that your online store is mobile-friendly is not just an option but a necessity.
SEO in Ecommerce: The digital marketplace is crowded, and standing out requires more than just a beautiful website. SEO optimization, as offered by Retailsy, can be the difference between a thriving online store and one that gets lost in the crowd.
For those interested in exploring more about Retailsy or downloading the theme, you can visit its official page on WordPress.org.