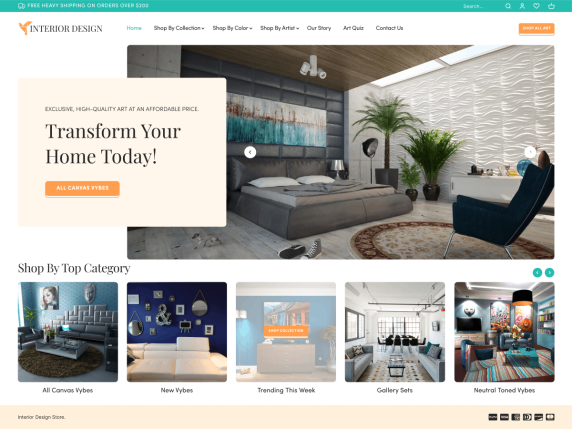 Prime Interior Designer is a specialized WordPress theme tailored for interior designers and decorators. It serves as a platform for these professionals to exhibit their portfolios and services in an elegant and modern manner. Here's a comprehensive look at what this theme offers:
Modern and Stylish Design
The theme boasts a contemporary design that is ideal for creating a professional online presence. It is equipped with a range of pre-designed pages, including home, about, services, projects, blog, and contact. Each of these pages can be effortlessly tailored to align with your brand's distinctive style and requirements.
User-friendly Customization
One of the standout features of the Prime Interior Designer theme is its robust page builder. This tool empowers users to craft custom layouts and designs without the need for any coding expertise.
Showcase Your Work
The theme incorporates a gallery feature, allowing users to construct stunning galleries and sliders to display their work. Additionally, it provides options to add descriptions, project specifics, and client testimonials, offering visitors a comprehensive understanding of the services on offer.
Responsive and SEO Optimized
In today's digital age, it's crucial for websites to be mobile-friendly. Prime Interior Designer ensures that your website looks impeccable and functions seamlessly across all devices. Moreover, it's optimized for search engines, ensuring better visibility and reach.
Grow Your Business
With its array of features and user-friendly design, the Prime Interior Designer theme is a valuable tool for interior designers looking to expand their clientele and business.
Key Features:
Modern design tailored for interior designers.
Powerful page builder for easy customization.
Gallery feature to showcase projects.
Fully responsive and SEO optimized.
Thought-Provoking Questions:
How can the Prime Interior Designer theme help professionals stand out in the competitive interior design market?
In what ways can the gallery feature enhance the user experience for potential clients?
How important is it for themes like Prime Interior Designer to be mobile-responsive in today's digital landscape?
For those interested in exploring more about this theme or downloading it, you can visit the official page on WordPress.org.