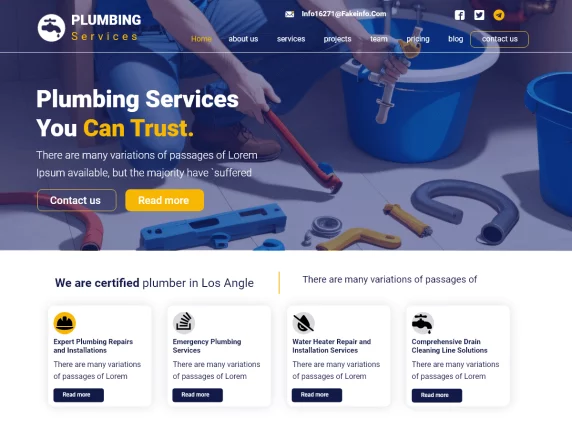 Creating a professional website for your plumbing business is essential in today's digital age. With the right theme, you can showcase your services, establish credibility, and attract new customers online. One such theme that stands out is the "Plumbing Agency" theme available on WordPress. Here's a step-by-step guide on how to create a plumbing website using this theme:
1. Introduction to the "Plumbing Agency" Theme:
"Plumbing Agency" is a free WordPress theme designed exclusively for plumbing businesses. It boasts a sleek and professional design that instantly conveys trust and reliability. With its clean layout and eye-catching visuals, your website is bound to make a lasting impression on visitors. Some of its notable features include:
Mobile Optimization: The theme is fully responsive, ensuring your website looks and functions flawlessly across devices, from smartphones to desktops.
Customizable Header & Footer: Personalize your website with customizable header and footer sections. You can adjust colors, upload your logo, and display important contact information prominently.
Dedicated Service Sections: Highlight your expertise, describe your range of services, and include images or icons for a visual representation of your offerings.
Live Demo of Plumbing Agency Theme
2. How to Install the "Plumbing Agency" Theme:
Log in to your WordPress Dashboard: Navigate to the 'Appearance' section and click on 'Themes'.
Add New Theme: Click on the 'Add New' button at the top of the page.
Search for "Plumbing Agency": In the search bar, type "Plumbing Agency" and press enter.
Install and Activate: Once you find the theme, click on the 'Install' button and then 'Activate' once the installation is complete.
3. How to Use the "Plumbing Agency" Theme:
Customize Your Website: Go to 'Appearance' > 'Customize' to start personalizing your website. Here, you can adjust the site's colors, header, footer, and more.
Add Your Services: Navigate to the dedicated sections for services and add details about your plumbing services, including images or icons.
Upload Your Logo: In the customization section, you can upload your company's logo to enhance brand recognition.
Update Contact Information: Ensure that your contact details are updated and displayed prominently so potential customers can easily reach out to you.
Publish & Review: Once you've made all the desired changes, click on the 'Publish' button. It's always a good idea to review your website on different devices to ensure everything looks perfect.
In conclusion, the "Plumbing Agency" theme offers a comprehensive solution for plumbing businesses looking to establish an online presence. With its user-friendly features and professional design, creating a website has never been easier. So, download the theme today and elevate your plumbing business to new heights!