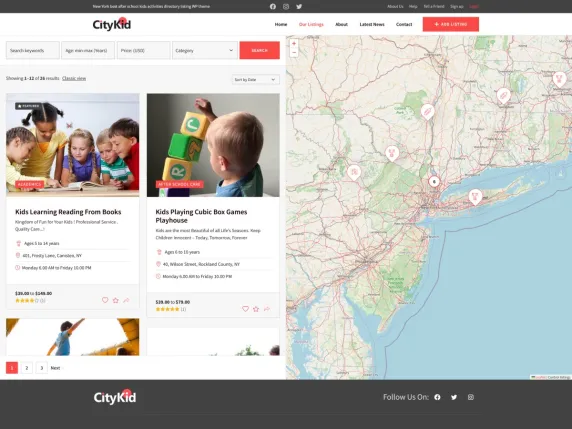 In the vast ocean of WordPress themes, it's a challenge to find one that truly stands out. However, every once in a while, a theme emerges that captures the essence of modern design and functionality. Enter "Citykid" – a theme that perfectly marries the needs of businesses and bloggers in a vibrant and interactive package.
A Modern and Dynamic Design
Citykid is not just another theme; it's a statement. With its modern and dynamic directory listing, corporate business, and blog design, it's tailored for those who wish to present their content in a lively and captivating manner. The theme's vibrant color palette, combined with its bold typography, ensures that your content never goes unnoticed.
User-Friendly Layout
One of the standout features of Citykid is its user-centric design. The layout is intuitive, ensuring that visitors can easily navigate through the site and access the information they seek. Whether it's a directory listing or a blog post, Citykid places a premium on highlighting the most crucial details.
Essential Features for Directory Listings
Citykid understands the nuances of directory listing websites. It offers features like sorting and filtering listings based on various criteria. Moreover, with map integrations, businesses or events can be showcased with their exact locations, making it convenient for users to find them.
Tailored for Businesses and Bloggers
For corporate entities, Citykid offers a plethora of elements to display their services, ranging from events and storefronts to contact forms. Bloggers aren't left behind either. The theme's blog functionality is flexible, allowing for the creation of content that's not just informative but also engaging and interactive.
Plugin Support
Citykid is not just about aesthetics; it's about functionality too. It seamlessly integrates with popular plugins like WooCommerce, Breadcrumb NavXT, Contact Form 7, and One Click Demo Import. This ensures that users have all the tools they need to create a comprehensive website.
Customization at its Best
The Citykid theme, crafted by Themeperch, offers an extensive range of customization options. Whether it's tweaking the color scheme, choosing font families, setting a custom background, deciding on a grid layout, or selecting widget areas, Citykid ensures that users can infuse their personal touch into the design.
Conclusion
In a world where standing out is paramount, Citykid offers businesses and bloggers a unique platform to showcase their content. It's not just a theme; it's a canvas that allows for a dynamic and fun website design. If you're on the lookout for a theme that's both visually appealing and feature-rich, Citykid might just be the perfect choice for you.