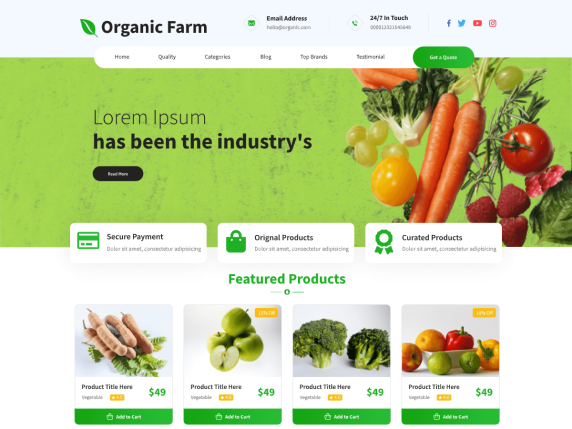 In the digital age, creating an online presence is crucial for any organization. Whether you're an environmental preservation movement, a Green Earth organization, or an organic life project, having a website that reflects your values and mission is essential. This is where the Organic Farm WordPress theme comes in. As a website builder, it provides a comprehensive solution for creating a visually appealing and functional website.
Organic Farm: More Than Just a Theme
Organic Farm is not just a theme; it's a complete website builder designed for a wide range of environment-related websites. It's ideal for websites related to ecology preservation movements, Green Earth organizations, organic life projects, and animal saving fundraisers. It's also suitable for naturopathy, natural and organic medicinal herbs, organic juice stalls, organic compounds, organic vegetable farming, organic vegetable wholesalers, grocery stores, supermarkets, organic shops, herbal tea, Organic Health Supplements, Organic Body & Skincare Products, exotic fruits, organic tea, organic products and food, Organic Vegetable Seeds, Organic Fruits Grower, medicines, pharmacy, animal feed, Organic meat, dairy, eggs, Organic Health Supplements, Organic Farming, Organic Kitchen Garden, Organic Snack Bar, Organic Homemade Fertilizer, agricultural products, agri-based foods, food packaging industry, nature conservation, environmental naturo eco social group websites, and other types of nature-related websites.
Features and Customization
The Organic Farm theme offers a minimal and elegant design that appeals to a wide audience. It provides ample customization and personalization options, allowing you to tailor your website to your specific needs. You can add shortcodes to increase the functionality of your website, making it a versatile tool for your online presence.
The theme is based on the bootstrap framework, ensuring smooth operation. Its optimized codes result in faster page load times, enhancing the user experience. The responsive layout ensures that your website fits perfectly on all device screens, from desktops to mobile devices.
SEO-Friendly and Web Hosting Ready
One of the standout features of the Organic Farm theme is its SEO-friendly design. This helps your website rank easily on search engines, increasing your visibility and reach. When paired with a reliable web hosting service, your website can handle high traffic volumes, ensuring your audience can access your content anytime, anywhere.
In conclusion, the Organic Farm WordPress theme is more than just a website builder. It's a comprehensive solution for creating an eco-friendly website that reflects your organization's values and mission. Paired with the right web hosting service, it can help you create a robust online presence, reach a wider audience, and make a bigger impact.