Slow speed performance is something that no website owner wants to experience. Test your overall website performance frequently to make sure that doesn't happen to you .
You can monitor your page speed and get pointers on its weak spots by using website speed test tool. You will be able to take necessary steps to improve the performance whenever they're needed.
This article will show you the reasons why you should care about website load time along with 3 best website speed test tools for your future needs.
Why Does Page Speed Matter?
As a visitor, It is very painful if you encounter a website that takes a long time to load?
According to Kissmetrics, 40% of visitors click off of a site if the loading process takes more than three seconds.
For that reason, page speed is very important for reasons stated as follow:
Affects SERP — A search engine only has a bit of time to gather results. If your page doesn't load within that short window of time, you'll rank lower on the search engine result page's list.
Affects website traffic — This is what we meant in the example above. Slow loading process equals to 40% risk of losing potential visitors (or, worse, buyers).
Affects SEO — Search engines have their own reputation to maintain, and your poor page speed can harm their user experience.
All in all, every site owner needs to maintain their website performance to provide the best possible user experience. One of the ways to do it is by performing a periodic web check-up using website speed test tools.
Best 3 Free Website Speed Test Tools
There are a lot of speed test tools that might suit your needs. We have made a list of 3 best free ones to save your time.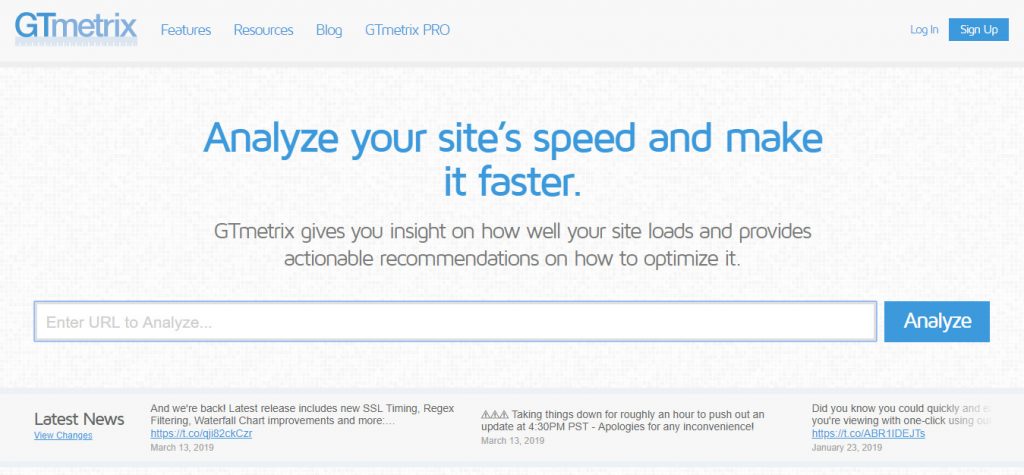 Dealing with website speed and performance optimization, GTmetrix's key features are suitable for most web performance monitoring.
It'll give you a summary of key performance indicators, website monitoring, and the ability to test your website from multiple regions across the world. All for free.
You also get to conduct a connection throttling test to see how well your website is performing on various connection speeds.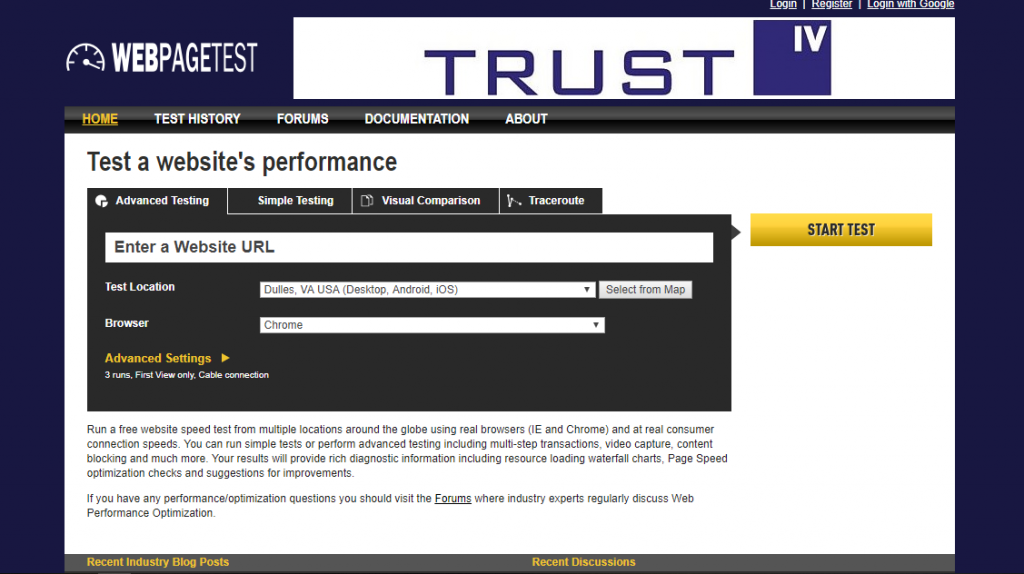 WebPagetest speed test tool allows you to conduct a speed test from multiple locations across the world using Internet Explorer and Chrome for free.
Its key features include multi-step transactions testing, video capture, and content blocking.
By the end of the test, you'll get resource loading waterfall charts, page speed optimization checks, and suggestions for improvements.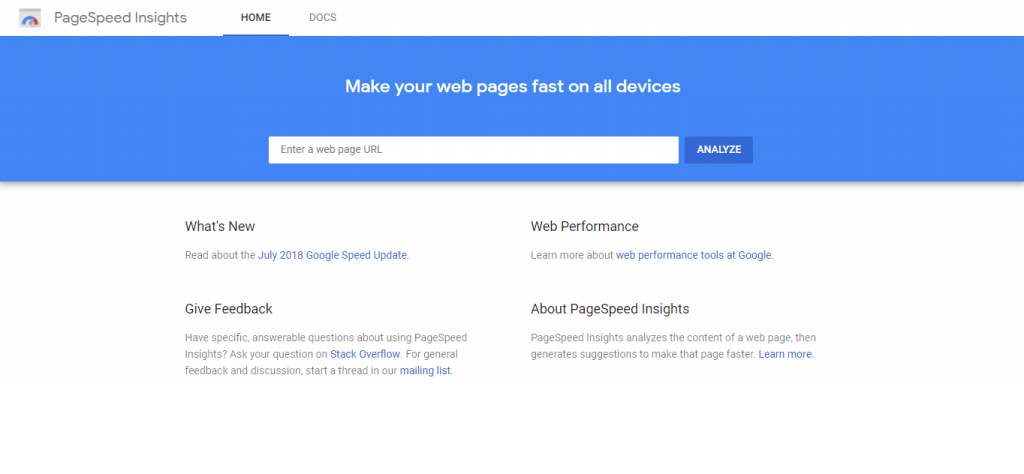 As Google owns this speed test tool, the user experience metrics are based on the website's performance on the Chrome UX Report, both on mobile and desktop devices.
The test will give you lab and field data. The former is related to performance issues while the latter contains real-time performance data that your visitors experience.
This speed test tool is favored by small to middle-scale business and independent website owners who look for an easy and straightforward way to maintain their web performance.
Basic tips to get fast loading website
Choose hosting company carefully. There are lots of web hosting company available. Read this to find best web hosting company including shared hosting, wordpress hosting, vps hosting.
Create Cache
Optimize images
Use cdn
Lazy load image and videos
Conclusion
Web performance is an important aspect that needs attention from every web owner. As most visitors don't have the time to deal with slow loading websites, load time becomes an important factor in determining the quality of user experience.
Slow load time also plays a major role in causing your web to suffer from ranking low in SERP and low web traffic. The bottom line is you don't want these issues happening to your website.
There are plenty of speed test tools to do that, but there's only so much that suits your needs.
If you're looking for an easy-to-use one, Google got many handy tools such as PageSpeed Insights and Test My Site that can do the job. They're free and built directly into Google Chrome, so it's very accessible to everyone.
If your website contains a large number of images, the Image Analysis Tool is the perfect choice for you. It helps improve the use of high-quality images without sacrificing your load time.
For more options of monitoring tests and optimization methods, Pingdom and Monitis are few among your best options. Their reputation and expertise in handling large-scale websites enable you to have the best possible web performance monitoring tests and bottlenecks detection done for you.
All in all, there's simply no excuse not to monitor your web performance.